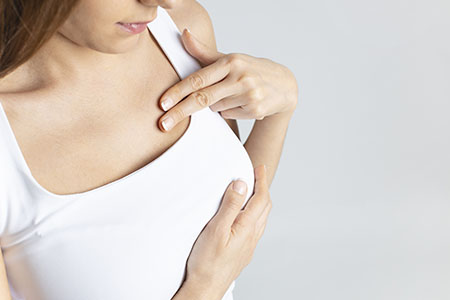 As a woman, you can't always rely on your physician or annual imaging to detect abnormal breast tissue. While these scheduled mammograms and breast exams are highly recommended and effective when detecting early breast cancer, it doesn't mean you can dismiss your part in between visits. When it comes to breast cancer detection, you have a job to do. This includes breast self-exams at home. How well do you know your breasts? Could you detect changes if they occur?
Here are some general guidelines for this type of do-it-yourself breast cancer screening:
Know what your breasts should look like. Any change in shape, size and color or seeing bulging skin, nipple position changes, redness or soreness could be a clue to go get checked.
Look in the mirror straight on and from both sides. Then raise your arms and look for the same changes in tissue or skin.
Lie down and feel the breast tissue. Use the opposite hand for the breast you are checking. Using your fingertips, massage in small circular motions to check for any lumps on the entire breast.
Be comprehensive when you perform a breast self-exam, include the breast tissue around your collarbone, abdomen, armpit and cleavage area.
Repeat this same self-exam while standing, since your tissues will naturally shift into a new position.
Do you notice changes in the way your breasts look or feel? Don't ignore it. We want to see you at North Pointe OB/GYN Associates when you need breast cancer screenings. This is a prevalent and deadly cancer that can be treated when it is in the early stages. To learn more about your personal risk for breast cancer or to schedule a breast cancer screening at our Cumming office, please call us today.