Labor Induction: Evaluating Risk and Necessity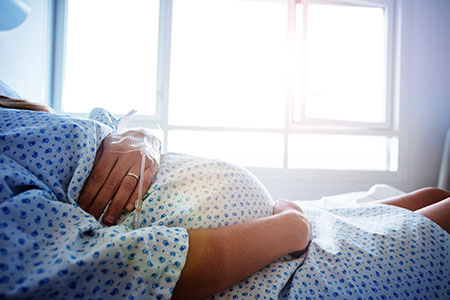 The end of pregnancy can be tough. Not only are you ready to meet your baby, but you may also be getting very physically uncomfortable as the third trimester nears its end. Whether it is out of discomfort, excitement or scheduling convenience, many pregnant moms want to know their options for inducing labor. Labor induction involves a scheduled medical intervention to induce or provoke labor earlier than the full 40-week term of a pregnancy. The rate of induction of labor in the U.S. has risen from 9.6% in 1990 to 25.7% in 2018, including 31.7% of first-time births.
Inducing labor, however, should not be a flippant or casual decision. Labor induction comes with notable risks that must be clearly understood – especially if it is performed without medical cause.
The Danger of Elective Labor Induction
Labor induction involves interventional therapy to stimulate uterine contractions and promote labor before the body naturally does so on its own. This can be achieved with pharmaceutical medicines that ripen the cervix and typically involves a physician breaking the water sac. While labor induction can be done safely and successfully, it does not come without risks. A baby needs the full 40-week term of pregnancy to fully develop, especially in terms of the lungs and mental development.
Elective labor induction, or inducing without medical cause, poses the following risks to both mother and baby:
Increased risk of NICU admittance
Higher chance of prematurity
Higher chance of jaundice
Low heart rate
Umbilical cord complications
Increased risk for a C-section birth
Uterine rupture
Bleeding after delivery
Infection risk for mother and baby
When is Labor Induction Necessary?
There is a time and reason for labor induction. In fact, there are medical situations in which inducing the labor prior to 40 weeks offers more benefits than risks. The following are situations in which there is medical necessity for labor induction:
Decreased fetal movement
High blood pressure (preeclampsia)
Hypertension gestational diabetes
Fetal growth restriction
Placental abruption
Broken water bag while not being in labor
Beyond 41+ weeks of pregnancy (post-date induction)
At North Point OB/GYN, our providers put the health and safety of you and your baby as our highest priority. When it comes to schedule labor and delivery, we use our expansive knowledge and expertise in obstetrics to make the best decision for the timing of delivery. If intervening with labor induction is necessary, you can trust us to perform this step with unrivaled care. Call today to learn more about whether labor induction is right for you.