The Big Benefits of Breastfeeding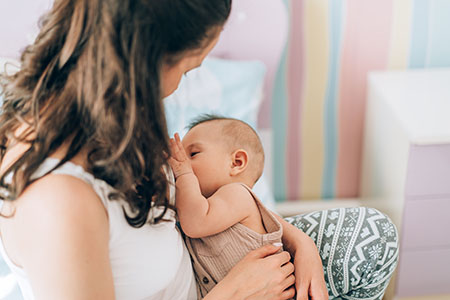 Breastfeeding is a very natural process, but it doesn't come easy for every mother and baby. It may also not be a feasible feeding solution for some families. While breastfeeding has numerous benefits, the decision to breastfeed your baby is a personal one. At North Pointe OB/GYN, we support moms who want to breastfeed as well as those that prefer formula feeding. Our clinicians, however, are always available to help you determine what method is best for you and your baby. In doing so, we like to outline the pros and cons of each. When it comes to breastfeeding, we explain the astounding benefits for both mom and baby.
According to the World Alliance for Breastfeeding Action (WABA), breastfeeding provides not only the best possible nutrition, but also protects your baby by increasing their immunity against many childhood diseases.
Benefits for Baby
When breastfeeding exclusively until your baby is six months old, you'll reap the following rewards for your baby:
Provides all nutrients for physical and mental development
Helps build immune system
Prevents infections caused by germs that contaminate artificial feeding bottles
Reduces the risk of developing obesity and allergies
Creates healthy bond between mother and child through skin-to-skin contact
Advantages for Mom
The benefits of breastfeeding aren't solely for your baby. As a new mom, you'll be able to take advantage of the following if you choose to nurse your child:
Supports faster recovery from childbirth
Delays returned ovulation/fertility after birth to foster wider child spacing and safer childbearing
Helps uterus return to pre-pregnancy size
Lowers risk of ovarian and breast cancer, type 2 diabetes, rheumatoid arthritis and heart disease
Releases Prolactin hormone to relax the body and produce peaceful sensation
Releases Oxytocin to enhance the sense of love and attachment
At North Pointe OB/GYN, we don't stop caring for you at childbirth. In fact, your experience as a new mom is very important to us, which includes how you feed your baby. To learn more about the benefits of breastfeeding, please call our Cumming clinic today.